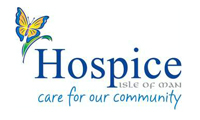 Hospice
"During the construction of the new Hospice, Manx Independent Carriers transported numerous items from the UK needed to complete the project. Throughout this construction period, we found Manx Independent Carriers to be exceptionally supportive, caring and professional.

"All their staff exceeded any customer expectations above and beyond the call of duty.

"Hospice Isle of Man is truly indebted to Manx Independent Carriers."
Hospice Isle of Man is a registered charity that started in 1983. We are privileged to have His Excellency Lieutenant Governor Sir Paul Haddacks KCB and Lady Haddacks as our Patrons.
More than 350 patients each year are being cared for by the Hospice. This comes at a cost of over £3m per year, of which £500,000 is given to the Hospice by the Isle of Man government.
Most of the income comes from fundraising events, regular donations and legacies. Regional Committees raise over 50,000 and Hospice Shops raise more than £450,000. 90% of the income is spent directly on patients' care. Only 10% is spent on administration.
All hospice services are provided totally free to patients and their families.
During the construction of the new Isle of Man hospice Manx Independent were involved in transporting lots of different commodities to enable the project to be completed on time. A. As well as working with the Building Contractors directly to ensure their loads of materials were transported from the UK to arrive on time we also worked directly with the staff of Hospice Isle of Man ensuring some of the more fragile internal fittings needed to complete the project arrived on site safely and secure.