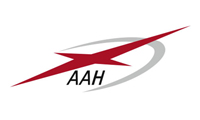 AAH
"Manx Independent Carriers have been collecting and delivering our goods to the Isle of Man from our warehouse for more than ten years now, and have and still do supply a first class service.

"Over the years we have used other carriers but found the service that Manx Independent supply is second to none, this is why we have and will continue to use their service.

"We have found that the service that they supply to all of our stores on the Isle of Man is as good as sending one of our own drivers to do the deliveries"
With 3,800 employees and 20 locations across the UK over a suite of subsidiaries and brands, AAH is the country's leading distributor of pharmaceutical and healthcare products and services to pharmacies, hospitals and doctors. Making over 100,000 deliveries a week and with over 20,000 products stocked, AAH is the largest pharmaceutical wholesaler in the UK.
Manx Independent provided daily overnight groupage and full load services to AAH. Collecting from their Distribution Centre in the Midlands and delivering the following morning to their Isle of Man Stores