About Manx Independent Carriers
Manx Independent Carriers was established in 1985 to supply customers and trading partners with a cost effective, reliable freight service to and from the Isle of Man as well as offering a wide range of Logistics and Freight Forwarding Services
By choosing Manx Independent, you have selected one of the Isle of Man's most respected transport and logistics organisations that is committed to the safe and timely movement of cargo by Road, Air and Sea. We offer shipping services for many National and International clients and handle most types of goods, including express parcels, foodstuffs, automotive, industrial and construction equipment, home furnishings, electrical and audio/visual products, and bulk products.
The Company recognised the importance and need for an effective and timely delivery service for the Isle of Man, we combined our knowledge and expertise to create the Island's largest Transport and Distribution Company.
The desire to provide the best service standards possible has continued throughout the life span of the company and, as the needs of the Island have changed over the years, we have diversified our services accordingly.
Currently employing over 110 staff and handling in excess of 3,000 consignments daily, along with palletised freight and full trailer loads, the company aims to provide economical and practical solutions combined with the highest service standards possible. The company has developed a truly comprehensive package using cutting edge I.T., specialist equipment along with customer focused staff trained to meet every conceivable customer requirement.
A key benefit of the service lies in offering a consolidation and distribution service to markets where low volumes of goods are required on a regular basis.
Manx Independent Carriers believe customer care is paramount and consults with its customers on an on going basis to ensure that the company is best placed to cater for current and future requirements of our customers.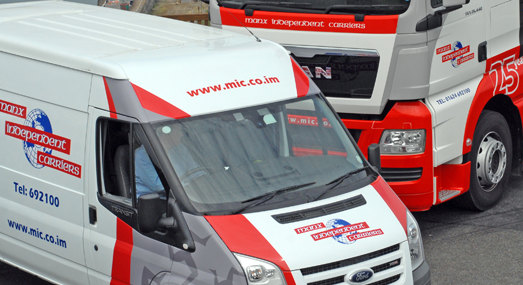 Manx Independent Carriers Today:
Modern purpose built IOM Distribution Centre
Hand Held Delivery Technology
Over 3000 Consignments handled daily
Web based track and trace
Total Customer support from MIC
The Manx Independent support team is here to help you.
If you would like to find out more about what MIC could do for you, or would like to start to take advantage of our unique range of services, please contact us.