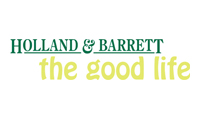 Holland and Barrett
"We have worked with Manx Independent for the past twelve years to accomplish our deliveries to the Isle of Man. We have always found them to be professional in their approach and have always offered us an excellent service through proactive planning and communication."
Holland and Barrett is the UK's leading retailer of vitamins, minerals and herbal supplements. Their stores are a familiar sight in almost every major city and town across the U.K. with new outlets opening up all the time. Interest in natural food supplements has increased considerably over the last few years and Holland and Barrett has always had a commitment to its customers to provide high quality products at value for money prices.
They have many years experience in working to bring their customers the most advanced formulas nutritional science has to offer. Everyday their scientists, working with the finest ingredients sourced from around the world, are searching to develop the breakthrough formulas of the future. The original values set down all those years ago remain the same today.
Manx Independent have offered their services to Holland & Barrett for over twelve years. Holland & Barret benefit from the expertise offered by MIC in retail distribution. We collect their product from their Distribution Centre and ship it overnight to the Isle of Man for Next Day delivery. Deliveries have to made early in the morning to ensure their stock is available for the days trade.