Specialist Services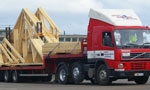 Manx Independent Carriers has 30 years of experience in solving some of the most challenging transport requirements to and from the Isle of Man.
We are proud to have been involved with some of the most prestigious Construction projects ever undertaken on the Isle of Man. Our Specialist Services team like to be involved at the start of a project, advising clients during the planning stage in order to meet all the legal requirements in respect of moving abnormal loads on the Isle of Man.
We liaise directly with the Isle of Man Steam Packet and the local authorities, to ensure your special load arrives on time. Visit our projects page for examples of recent projects.
Service Features
Dangerous Goods by Air and Sea
Total Customer support from MIC
The Manx Independent support team is here to help you. If you would like to find out more about what MIC could do for you, or would like to start to take advantage of our unique range of services, please contact us.