Edmundson Haulage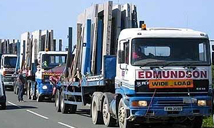 Edmundson Haulage is a wholly owned subsidiary of Manx Independent Carriers.
Edmundson Haulage is the longest established Haulier serving the Isle of Man being formed in 1936. Manx Independent Carriers purchased the Company from John Edmundson in 2001.
Edmundson operates a full UK Haulage service as well as collecting and delivering on behalf of Manx Independent Carriers in the UK.
Service Features
Friendly and professional Customer Services Team
About Edmundson Haulage
We have been specialists in freight transportation to and from the Isle of Man for over 30 years having pioneered 'Lift on/Lift Off' and later 'Roll On/Roll Off' services to the island.


Walter Edmundson started trading in Preston as a timber merchant. Walter Edmundson was the father of the present Chairman, John Edmundson.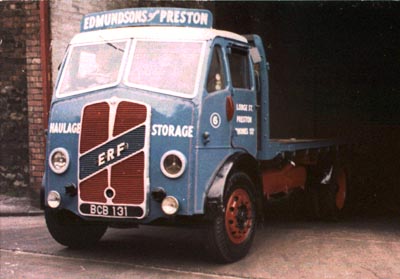 Walter Edmundson Ltd. was registered as a private limited company
With the coming of the Second World War, timber became rationed. The timber trade became almost inoperable due to restrictions on imports. Walter Edmundson turned his activities to Storage, and was greatly involved with the Ministry of Food. He also launched C.R.S. (Carton Recovery Service) in Preston to preserve stocks of paper.
Walter returned to timber merchanting, whilst keeping his links to the Storage industry. His premises were the first storage premises in the Preston area for such household names as Bird's Eye Frozen Foods, Coco-Cola, Persil etc, and in the mid 50's stored new transit cases for the U.K.A.E.A.
Walter Edmundson's first venture into Road Haulage was by the acquisition of Mitchell Bros. of Darwen, but this was short-lived, due to the Nationalisation of Road Haulage in 1948.
With John Edmundson now having joined his father in the business, they re-entered the road haulage industry in a very small way. At this time, the Company purchased it's present operating base in Preston.
Preston Dock was at its peak of success at this period in time, and Walter Edmundson Limited became Preston agents for Companies servicing Northern and Southern Ireland with the handling of ships from Larne, Belfast, Dublin & Waterford. Edmundson's represented In Preston companies like Northern Ireland Eggs Ltd., Ulster Ferry Transport Ltd., and Jenkinson & Archer Ltd.,(J.&A. Line of Dublin) who later became part of the George Bell (Bell-Line) empire. Preston dock, at this time was said to be busier than both Liverpool & Manchester ports.
There came a call for bigger and faster vessels to serve Ireland, and preferably from non-tidal ports. Preston then lost out to Liverpool & Fleetwood, and the ever increasing popularity of the Scottish ports at the top end of the M6. Sadly Preston dock eventually had to close. It is today, a thriving marina.
A company called Ronaldsway Airport Agencies Ltd. was formed in the Isle of Man to handle airfreight at Ronaldsway airport. Walter Edmundson Ltd. soon joined forces with Ronaldsway Airport Agencies Ltd., and formed Ronagency (Shipping) Ltd., abandoning their airfreight activities in favour of seaborne freight. The Isle of man office to this day handles road deliveries around the Island from clients who have airfreighted their cargo directly to Ronaldsway airport.
The company opened up Glasson Dock for unit load operations by the construction of two 25 tonne cranes at the small port. Walter Edmundson died two weeks before the Glasson Dock operation started.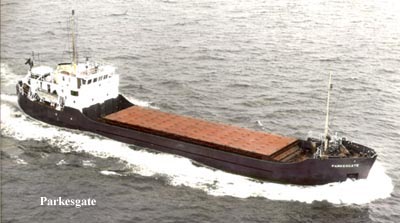 Soon there was more than one ship required, and at the peak, four ships were chartered, including the M.V. Parkesgate which John Edmundsons's wife had the pleasure of sponsoring at her launch in the Solent.
Walter Edmundson Ltd., continued to carry out the haulage operation for Ronagency (Shipping) Ltd., and later took control of the Company in it's entirety, John Edmundson becoming Chairman.
Traditional methods of Lift On/Lift Off containerised shipping were by now being superseded by Roll On/Roll Off (RORO) vessels.


The Isle of man became embraced in this new method of handling cargo. Ronagency (Shipping) Ltd., Walter Edmundson Ltd., and a few small private investors formed Manx Line, and purchased M.V Monte Castillo from Navier Aznar of Spain. She was refitted in Leith and emerged as Manx Viking. 

This seaborne operation became embroiled in the massive organisation that was Sealink, and Sealink eventually acquired Manx Line, itself becoming a part of Sea Containers empire shortly afterwards. Sealink became privatised, and merged with Isle of Man Steam Packet Co. Ltd.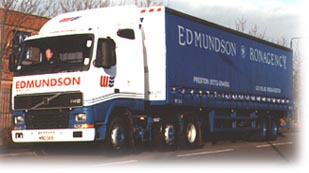 Walter Edmundson's new subsidiary, Walter Edmundson (Haulage) Ltd., is still the Steam Packet's largest single client, and has a fleet of over 90 articulated trailers vans, tautliners, tippers, etc., all serving the Isle of Man, coupled to a fleet of modern articulated tractor units, at both their Preston and Douglas depots.

Walter Edmundson Ltd., also formed a further subsidiary, Walter Edmundson (Storage) Limited, with modern properties in Preston available for short or long term rental.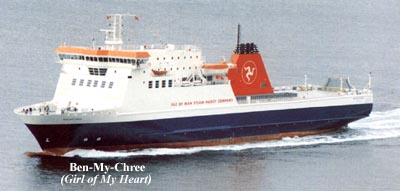 The company continues to go from strength to strength employing over 50 people at Preston and Douglas and has an annual turnover of over £5 Million.
Total Customer support from MIC
The Manx Independent support team is here to help you. If you would like to find out more about what MIC could do for you, or would like to start to take advantage of our unique range of services, please contact us.