Manx Independent Carriers provide Logistical Solution to Isle of Man Kerbside recycling Scheme
1st July, 2009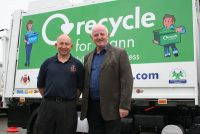 Click to zoom in
John Quaye and Steve Taggart, Recycling Officer of the DOLGE Waste Management Unit with one of the new recycling vehicles.

Manx Independent Carriers have been the main Logistics and Transport contractor to the Isle of Man Government for the new Kerbside Recycling Project being rolled out on the Island in November 2008. MIC received 35,000 recycling boxes at their 66,000 sq ft Skelmersdale depot. At the Skelmersdale depot, MIC's logistical team were tasked with labelling each recycling box with an instruction label specific to the box type. After the boxes were labelled, they were palletised by product type and held in storage for eight weeks.

The Department of Local Government were then able to call off their orders for boxes as required. By the end of the project, MIC had shipped 6 full trailer loads to the Department. MIC also provided temporary storage at their Isle of Man Distribution Centre to allow Local Authority staff to complete the final delivery to more than 15,000 households in the Braddan, Onchan and Douglas area.

Around 15,000 households in Braddan, Onchan and Douglas will be receiving two 55 litre 'kerbside' boxes, to recycle their paper, glass bottles and jars, food and drinks cans and plastic bottles.

A blue box with showerproof cover will be provided for paper (e.g. newspapers, glossy magazines and junk mail). The showerproof cover will stops the paper from getting wet.

A green box with elasticated net cover will be provided for glass, bottles & jars; food & drinks cans; plastic bottles.The elasticated net cover will keep the box contents in place and stop the plastic bottles from blowing away.

These recycling boxes will be collected on a fortnightly basis. Residents will also be provided with advice and instruction on how to use their recycling boxes, their household collection calendar dates and a dedicated helpline number in case they have any queries or concerns.The scheme is being delivered as a result of unique partnership working between officers and political members from the Department of Local Government & the Environment, Braddan Parish Commissioners, Onchan District Commissioners and Douglas Corporation.