Manx Independent Carriers provide abnormal load service for Peel Harbour Marina
1st August, 2009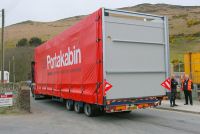 Click to zoom in
The loads consisted of two large sectional buildings, each of dimensions 12 metres long and 3 metres wide and which due to their height of 3 metres, had to be transported on specialised low loading, self steering 4 axle trailers.

The journey started in York and finished at Peel, all arrangements and permits with the relevant authorities, shipping on the Isle of Man Steam Packet Company and abnormal load escort services were carried out by experts in our traffic department.

The journey from Douglas Quay to Peel was escorted and some tricky maneouvring through the narrow streets of Peel was required. The Marina is set to open in May 2009 and will accomodate over 130 vessels. The harbour area in Peel is now one of the most attractive and desirable areas of the Isle of Man with new Apartments being recently completed on the site of the old Viking Longhouse.

Link to Peel Harbour Marina, click here.