Manx Independent Carriers move the TITANIC!!
1st August, 2009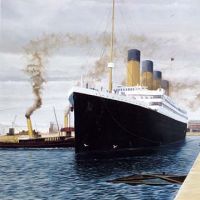 Click to zoom in
Manx Independent Carriers are pleased to have been of assistance to the Manx Operatic Society with their latest production "TITANIC - the Musical". We once again demonstrated our versatility and carried the props and scenery for the show which is scheduled to run from Saturday 21st to Saturday 28th March 2009 at the Gaiety Theatre in Douglas. This is the Manx Operatic Society's 60th Anniversary Production and it promises to be an extravagant show -

"Titanic will make you laugh, it will make you cry, it will make you want to come back and see it again"

The disaster happened almost a century ago yet still captures the imagination of the world today. Just hearing the word Titanic conjures up the image of the largest passenger steamship in the world sinking on its maiden voyage with the loss of over 1,500 lives

This March sees the Island premier of Titanic, the Musical, telling the story of that voyage. The Manx Operatic Society's production takes place exactly 100 years ago to the month when construction began on the largest moving manmade object in the world.

To read more, click here.